What's In a Name?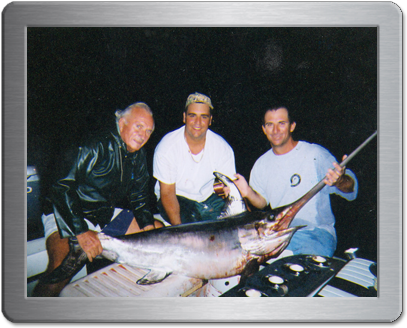 My grandfather, Bob Tesher, has been fishing the waters of South Florida since the 1940's. His love for fishing is contagious and he and my late grandmother, Nona Tesher fished faithfully every Friday, Saturday, and Sunday in the Florida Keys. The local fisherman began calling them, "Frick and Frack," and the name stuck. It is with gratitude and love for them that we sail as the FV Frick and Frack.
History
In the early years, much of the fishing was done slow trolling live ballyhoo on the edge of the reef, fishing two spinning rods with light line to amplify angling skill. From giant bull dolphin to innumerable sailfish, Fishing in South Florida produced indelible images of giant schools of kingfish you could just about walk on, schools of two hundred plus tarpon twenty miles out, and enormous mako sharks trying to eat the props off their 23' SeaCraft while fishing the Islamorada Hump.
In the mid 80's the boat was moved from the Keys to the Miami area. It was then that my grandfather, Dad (Bennett), brother (Jimmy), and I began to fish competitively. We took our fishing to a new level. We went from fishing 2 lines to 12 lines at a time. A typical tournament fishing day began at 2 a.m. catching live bait followed by a full day of intense tournament fishing and ending about 8:00 P.M. with preparation for the following day. This schedule went on as long as the tournament.
We have always approached the business and science of fishing with a "work ethic" mentality. Three generations of hard work has been a tough teacher, but as you browse our website, you will see that our efforts have paid off with consistent, and some truly remarkable catches.
Both by brother Jimmy and I own charter boats in sunny South Florida. I run the Frick and Frack, our Conch 27 open fisherman with twin 250 hp Suzuki motors. Jimmy runs the legendary L&H - a 46' Hatteras, docked at Crandon Park Marina in Key Biscayne.
I can go on talking about our fish tales, but I won't because we prefer making the new ones with you.